Thanks for visiting the Memory Maze blog. We are here not just to show you pretty examples using chipboard, but also to show you lots of techniques that you can try yourself at home.
You are so loved
My first project today is the result of one of our Design Team challenges. We were tasked with altering one piece of chipboard in three different ways. I began with a 12 x 12 chipboard frame which I covered in Gesso. This primes the chipboard to be able to hold lots of material and product on top.
I applied some pieces of lace and some plastic mesh in various places across the chipboard and secured this with more Gesso.
Next, I adhered some flowers and metals trinkets, and a chipboard tree (on its side) with more Gesso over the top, and once dry, I sprayed random sections of the project with paint mists in shades of teal. This really helped the texture to stand out.
Next up, I stenciled over the top of the chipboard with glitter texture paste to create the dots. I also added some touches of Glitter Glass. Finally it was time to finish off with the photo red flowers and paper embellishments.
Memory Maze Supplies used:
Next up I have a layout. One of the big trends to come out of CHA was gold foil. There were quite a number of companies featuring it in their new collections. I have created a layout using foiled and glittered papers from Kaisercraft. I used some Metallic Lustre paint through a Memory Maze stencil to enhance the background. I used the same paint to cover my chipboard title to emulate the gold in the papers.
Memory Maze supplies: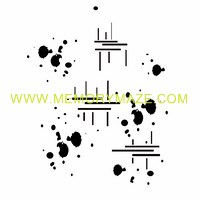 Thanks for visiting
Alicia Barry
Memory Maze DT member 2015